BBSU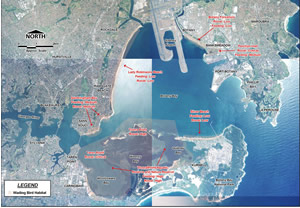 From a research perspective, the Botany Bay study area is an exciting and challenging cultural, economic, social, environmental and ecological laboratory where change (human-induced through past and current activities and through natural processes) is putting "acute pressure" in ways we do not understand in very complex interrelating systems.
The Botany Bay Studies Unit (BBSU) is a network of multidisciplinary researchers who have the commitment to undertake cross-disciplinary research into economic, social, ecological and environment problems in the Botany Bay study area. A committed core of scientists, who have a passion for the multidisciplinary research philosophy and how it can make a difference in the long-term planning and management of Botany Bay form the core research group
Based on a decentralised organisational structure, where the individual researchers have the responsibility for the scientific integrity of their investigations, BBSU helps assemble the best available research teams, or task forces – drawn from the local Sydney, Australian or international scientific community - to undertake that research and development work to meet the strategic objectives of the research grant program or the client.
MISSION
To undertake cross disciplinary research on topics of relevance to stakeholders in the sustainable planning and management of the study area. Whilst emphasising scientific independence, excellence and integrity, BBSU aims to forge partnerships involving government, industry and the community that will deliver relevant research outcomes to decision makers that is directed towards enhancement of the quality of life and the natural environment of the region.
By publishing the results of this research, and through its community outreach program, BBSU strives both for recognition of scientific excellence and relevance to the needs of society.
Updated 07/07/04